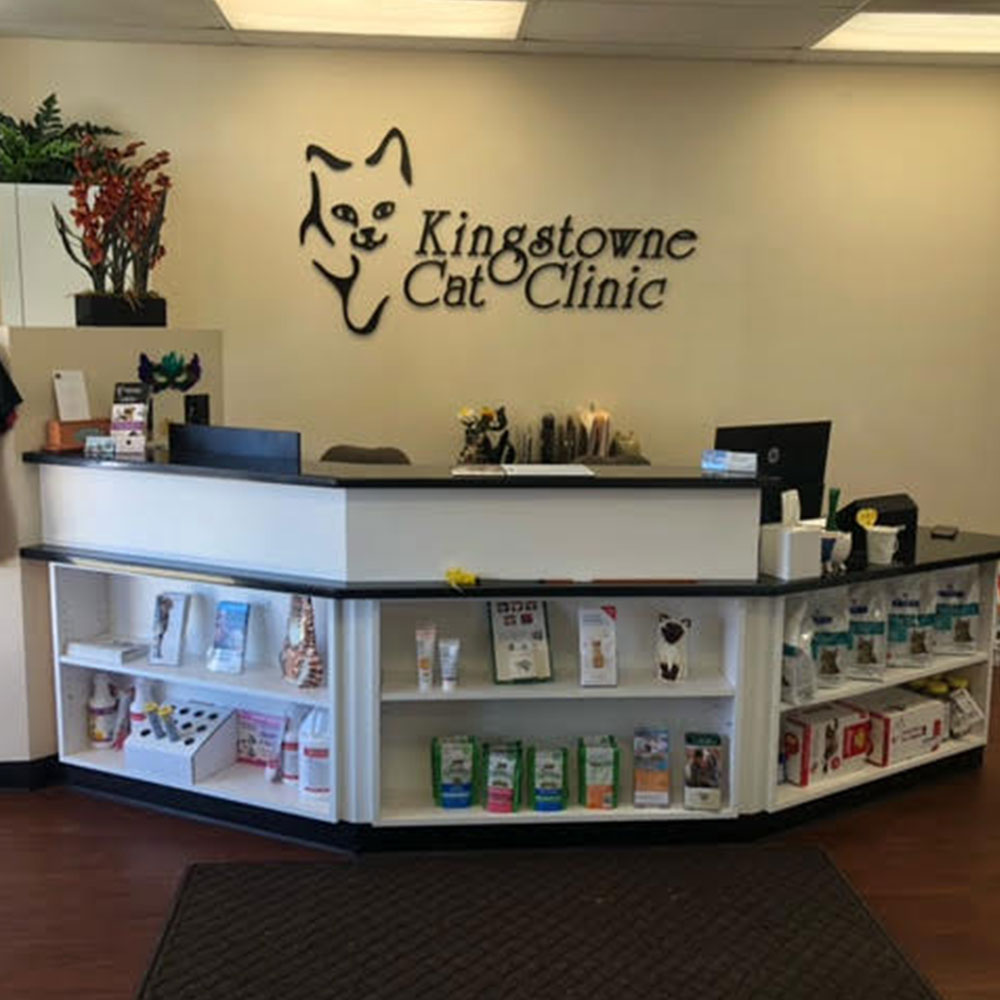 The Kingstowne Cat Clinic is a veterinary service that specializes in cats. Located just outside the beltway at the Kingstowne Shopping Center in Alexandria, the clinic was established in August of 1990. We offer vaccinations, neutering, dental care, boarding, euthanasia, and more.The clinic is dedicated to providing quality medical and surgical care for all cats throughout Alexandria, Alexandria County, and Fairfax County, VA. Please come in and meet our friendly staff. Please ask for a tour. We look forward to seeing you and making your cats feel right at home.
To our valued clients,
We are reaching out to update our clients on our online and compounding pharmacy policies. As Chewy has recently changed their authorization policies making it more difficult for us and our clients to fill prescriptions, we would like to inform you how we are trying our best to adapt to these changes.
Prior to this change, online pharmacies have faxed us prescriptions to have one of our doctors approve them, and they are returned via fax. This is not always the most flawless of systems, but we do our best to accommodate our clients and patients.
If outside online pharmacies do not fax a request and require a written prescription, our office will email you a prescription. In an effort to ensure the pharmacies are filling the correct medication/food, there will be no refills. This is so that we are able to identify any mishaps on their part. As we continue to adapt to these changes, please be patient with us. We are working with our computer system provider to make this transition run as smoothly as possible for our clients.
Our clients also have the option of ordering medication/food through our online pharmacy. Any food orders generally take about a week to receive as long as they are in stock.
You may also choose to utilize our online store located on our website which we can access directly through a web portal. We try our best to keep the prices as competitive as possible with Chewy and other online pharmacies. Our online pharmacy is also able to compound a lot of medications.
Our Store site is https://kingstownecatclinic.vetsfirstchoice.com/
Contact us at the office for coupon codes to use.
We hope you understand we are trying our best to keep our patient's health our top priority and also make life not any more difficult for our clients. If you have any questions, please contact the clinic and we will try to get our best to get your answers resolved as quickly as possible.
Kind Regards,
Kingstowne Cat Clinic