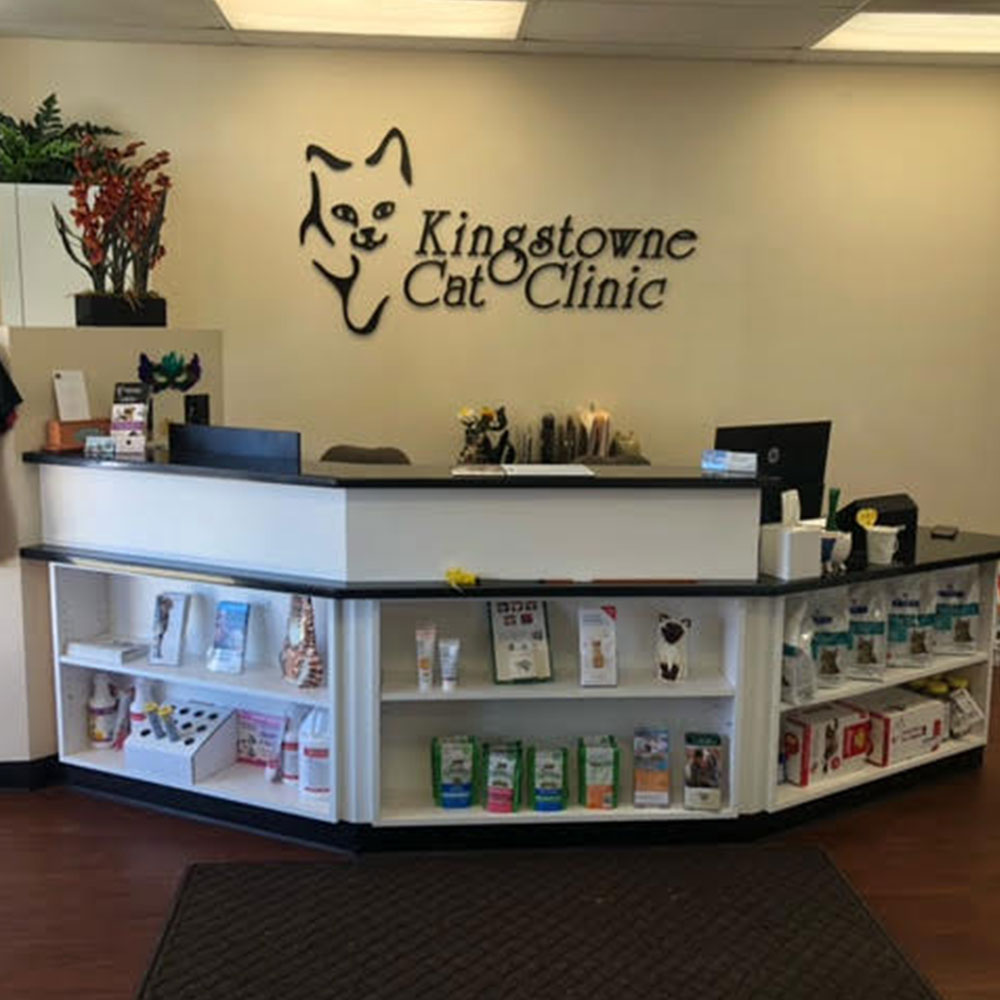 The Kingstowne Cat Clinic is a veterinary service that specializes in cats. Located just outside the beltway at the Kingstowne Shopping Center in Alexandria, the clinic was established in August of 1990. We offer vaccinations, neutering, dental care, boarding, euthanasia, and more.The clinic is dedicated to providing quality medical and surgical care for all cats throughout Alexandria, Alexandria County, and Fairfax County, VA. Please come in and meet our friendly staff. Please ask for a tour. We look forward to seeing you and making your cats feel right at home.
To our valued clients,
Kingstowne Cat Clinic Raises the Bar in Feline Care for Local Cat Caregivers as a Cat Friendly Practice.
Veterinary professionals encourage routine care for all cats to ensure a happy, healthy life.
Alexandria, Virginia (March 21,2022) – Kingstowne Cat Clinic is proud to announce that they are an official Cat Friendly Practice (CFP). As a Cat Friendly Practice, this practice has met specific criteria that demonstrates their unique ability to treat and handle feline patients gently and with respect. The Cat Friendly Practice program helps veterinary teams stay ahead of best practices in feline medicine. As a result, cats and their caregivers will have a less stressful visit because the practice is tailored to felines' specific needs. What's more, Cat Friend Practices like Kingstowne Cat Clinic regard the program as being key to their practice's ongoing success.
To make Kingstowne Cat clinic more comfortable for all of its furriest friends, Kingstowne Cat Clinic staff members have worked over the past few months to implement changes to make the hospital more "cat friendly."
For their work, Kingstowne Cat Clinic was recognized with a gold standard designation as a Cat Friendly Practice by the AAFP.
"Whether it's a routine checkup or special visit, the staff at Kingstowne Cat Clinic is committed to ensuring that cats get the best care" – Dr. Laura Mosoriak, owner. To further its dedication, the hospital recently implemented the Cat Friendly Practice program to offer pet owners more at every phase of the cat's health care process.
"We encourage everyone with cats to get them checked out by a veterinarian at least once a year. It's simple to make an appointment with us by calling 703-922-8228, or requesting one on our website, www.kingstownecatclinic.com"
What is a Cat Friendly Practice?
The Cat Friendly Practice program is leading the movement to make veterinary care less stressful for cats and their caregivers. The program provides support and in-depth, quality educational content to help veterinary professionals better understand the unique needs of cats. A designated Cat Friendly Practice has taken the extra time and steps to have the ability to consider each cat's experience and care. All Cat Friendly Practices must meet certain physical and educational requirements to achieve the designation.
In 2012, the Cat Friendly Practice program was launched and since then it has continuously gained momentum and flourished. As of yearend 2019, there were more than 1,200 designated CFP veterinary clinics. According to the most recent 2019 Cat Friendly Practice Survey, the majority of respondents experience an increase in feline visits, revenue, and patients.
"We are very proud of each approved veterinary clinic for their dedication to the Cat Friendly Practice program in striving for improved excellence in feline care," said Dr. Kelly St. Denis, President of the AAFP board of Directors. "The feedback from designated CFP's has been incredible. Veterinarians report very positive results and benefits for cats, clients, and the veterinary team. Equally important, we all have one goal in mind – to enhance the quality of care for cats,' she added.
What to expect at a Cat Friendly Practice
(for more details, visit catfriendly.com)
⦁ Cat-friendly attitude from the veterinary team
⦁ Team members educated in feline needs and medicine
⦁ Gentle handling
⦁ Feline-specific advice
⦁ Cat comfort
⦁ Feline-tailored waiting area
⦁ Feline-focused hospitalization and boarding areas
⦁ Feline -sized equipment and facilities
⦁ Comprehensive care
⦁ Cat-specific resources